I am literally OBSESSED with stripes, I've been into the nautical look ever since sailing when I was in my tween years, but now my obsession is just not healthy. I own so many striped tops...my favorite being from Mimi & Coco and Zara, but I found a gorgeous one at Urban Outfitters and another one that everyone seems to have at American Apparel. Thing is, now I'm starting to become obsessed with horizontal striped blazers!! I found the perfect striped blazer/jacket at H&M the other day and there were quite a few at Zara as well.
How to wear this look:

I feel like a horizontal striped jacket is already such a bold statement that you don't want to go too overboard on the other things you wear it with. I would probably pair it with a loose, big, thin, long t-shirt, a crystal, sparkly, chunky necklace that goes around the collar bone, no earrings, and your hair disheveled in that after-sex, Victoria's Secret kind of way either down or in a ponytail a la Serena van der Woodsen from Gossip Girl. Then I would pair it with black, thick, riding leggings that hit right at the middle of your ankle, and with the shoes you could literally do anything, but it must be a heel, I suggest you either go low-key with those 640$ Miu Miu black platform heels with the thick, solid heel...or you could go crazy and wear bright, show-stopper heels in like hot pink. I think navy blue nail polish is gorgeous and maybe wear a couple of thin stringy/rope-y kind of bracelets stacked together on one arm and a not-too-big/not-too-small cocktail ring on the hand opposite of the arm with the bracelets (I personally am obsessed with this horizontal oval deep, bright blue cocktail ring from Banana Republic). I can see myself wearing this at Les Deux Magots cafe in Paris...actually if I was in Paris I probably wouldn't add the bracelets it would be too much. Also the blazer must be rolled to a three-quarter length obviously.
As you can tell I can go on and on and on about a look and go into great detail. Sorry about that! I'm simply just trying to express my vizioonn (that is 'vision' spelled with a French accent).
This is the one I'm dying for by H&M worn by one of my favorite LookBook stars Andy from Amsterdam and my favorite blogger Chiara from Milan (please look at their YSL rings...aahhhh).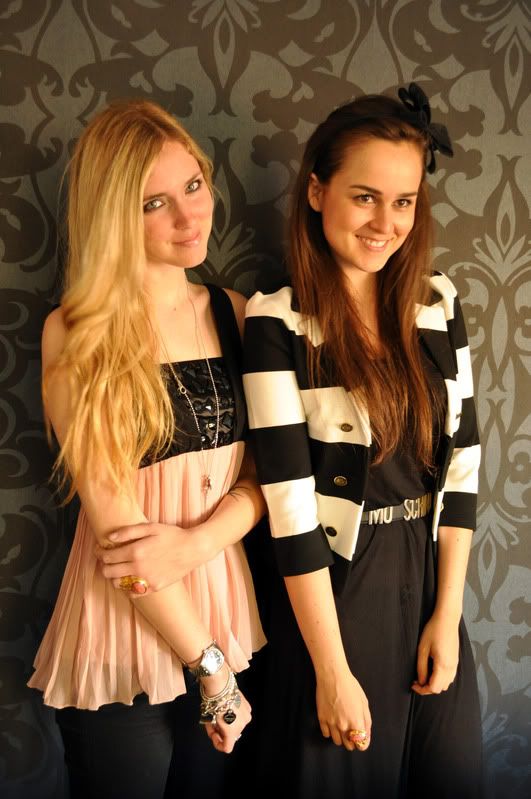 And these are not the Miu Miu shoes I was thinking of (I couldn't find them online even though I saw them at Holts today), but these ones are pretty awesome as well: